Sometimes you want to play the piano, or your kids need to practice for their lesson, but the noise is a problem. It could be late at night, or the baby is sleeping, or you just need some peace and quiet. These "Anytime Pianos" solve this problem. Kawai and Yamaha make a high quality upright fully acoustic piano that can be played "silently" with headphones when you need it quiet. A keyboard can offer a similar solution, but it never sounds like a piano or, more importantly for a practicing student, feels like a real piano.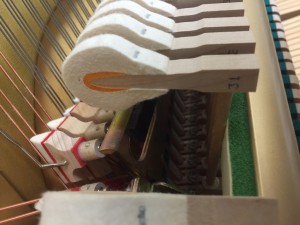 These "silent pianos" offer the best of both worlds. They sound and feel like a real piano, and you can plug your headphones in and play silently when you need to!
All the normal strings, hammers, parts and felt are found inside these pianos along with electronic sensors under the keys for playing in silent mode. Also, right in front of the "hammer shank," there is a rubber bar that can be moved forward to block the hammers actually hitting the strings. The rubber creates the feel of the normal rebound of the hammer against the string.

I see these pianos frequently in apartment buildings where using a normal acoustic piano could be annoying to neighbors. I also have seen these pianos in school offices. A piano is an essential tool for a band or choir director in selecting music etc., but their offices are usually connected to rehearsal spaces. These pianos let them use a piano when they need to without disrupting rehearsals.
Kawai has three models that have this system installed, including their flagship K-300. Yamaha offers this system installed on nearly all their models.

If these pianos sound useful to you, I encourage you to take a look at them. You can find the Kawai Anytime Piano at Portland Piano Company and the Yamaha Silent Piano at Classic Pianos.
I got to work with a Yamaha MP-100. It was badly out of tune so I put the headphones on but didn't engage the silent mode. I got to hear it in tune and out of tune at the same time!